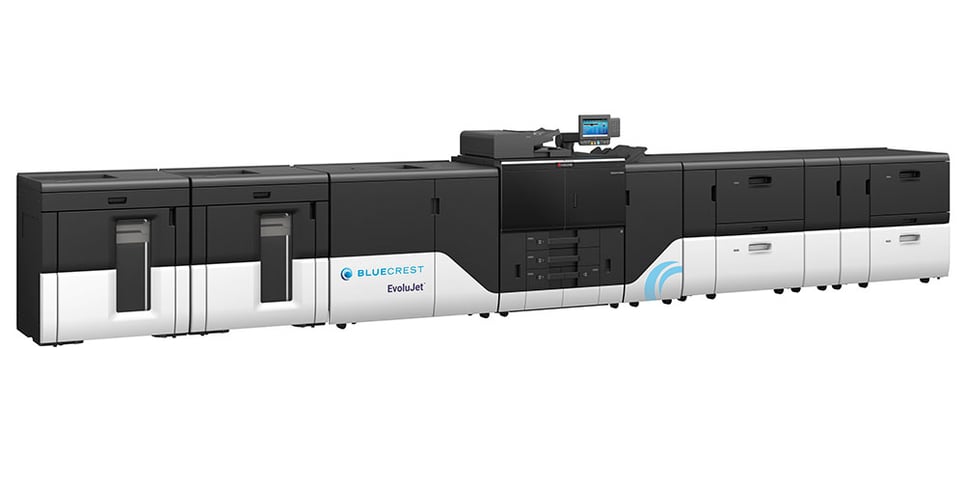 BlueCrest, an industry-leading global technology provider and supplier of a comprehensive line of enterprise software, printers, mail inserters, mail sorters, and parcel solutions, is today announcing the launch of its new EvoluJet Printing System to the UK market.
The EvoluJet is a new printer targeted at the entry high-volume production segment. This high-quality, colour cut-sheet inkjet printer is ideal for operations that use monochrome or colour toner printing technology and can benefit from moving to high-quality, more cost-effective inkjet. Additionally, for those operations that already use roll-fed inkjet printing systems, EvoluJet is a valuable production system for short-run print jobs or reprints.

This is a solution that is perfectly positioned to provide cost-effective high-quality inkjet printing to operations in the transactional and transpromo market space.
Guido Rietti
Vice President UK & Ireland, BlueCrest
"Our clients look to BlueCrest as a trusted 'one-stop shop' for their entire production mail workflow. With the addition of the EvoluJet we are able to fill a key gap in our product portfolio and offer a very competitive opportunity to upgrade or replace toner printers. Equally, EvoluJet adds a very high-quality platform for reprints or shorter print runs on the production floor, delivering flexibility and releasing capacity and availability of higher speed systems," said Guido Rietti, Vice President UK, Ireland at BlueCrest.
The EvoluJet printer leverages proven, reliable printhead technology from Kyocera that delivers impressive print quality at a low initial investment and run costs, making it an ideal entry to high-volume production inkjet. The EvoluJet is optimized for transactional mail and marketing mail applications for customers with monthly print volumes in the 250,000 to 1+ million impression range.
Chris Matthews, Head of Production Printing for Kyocera UK, comments: "We at Kyocera are delighted that BlueCrest, a trusted supplier of high-volume mailing equipment and solutions for the direct mail and transactional markets, has chosen to become a production print partner of Kyocera.
"Our ground-breaking TASKalfa Pro 15000c inkjet production press will become a big part of their solutions portfolio. BlueCrest will be rebranding the inkjet press as their own 'BlueCrest EvoluJet' with sales, marketing, and service efforts to their impressive customer base to begin immediately. We look forward to a strong and successful relationship."
Key benefits of the EvoluJet include:
Transition from toner to inkjet technology, resulting in consistent, high-quality monochrome and color output.
Low acquisition cost, versus higher duty cycle inkjet printing systems.
Low total cost of ownership (TCO).
Proven print head technology for stable and consistent image quality.
Optimisation for transactional applications by BlueCrest, delivering greater value from end-to-end process integration.
Single service support organization across BlueCrest print, software, insert, and sortation solutions.
Impressive productivity, with a 1 Million+ impressions-per-month duty cycle.