Paragon Customer Communications Germany is a leading provider of solutions for innovative customer and employee communications. The business forms part of the international Paragon Group, which is the market leader in customer communications, graphics and ID services with over €1bn in annual sales.
At its Schwandorf location, the company produces high volumes of direct mail for customers from various sectors, notably the financial and telecommunications markets. Direct Mail is currently experiencing a renaissance in the market, and Paragon identified investment in fast and flexible inserting technology as a means of achieving higher productivity. In 2019 the company conducted its own "Try and Buy" benchmark test, pitching the Epic inserting solution from BlueCrest against another high-performance, multi-format inserting system from a German manufacturer. Productivity statistics from Paragon's own Czech production location served as a baseline for the comparison.
The Epic system clearly won the test. The system's technological advantages, combined with higher productivity, led to lower unit costs. Alongside cost, there were five key factors that proved decisive for Paragon:
Productivity and effectiveness

-

Schwandorf produces significant quantities of direct mail,

so

the chosen technology

must

guarantee

productivity

to meet

agreed customer

SLAs.

Ergonomics - The system must be easy to use for operators

across Paragon's

three-shift operation.

The

design and layout of the machine

is

just as important as the functionality and user-friendliness in daily live operations.

High flexibility -

The system must be able to

quickly adapt to different materials and formats

to ensure on-time job processing

.

Service support

-

BlueCrest's c

ompetent and committed technical service staff

and

professional project management

were critical to the final decision.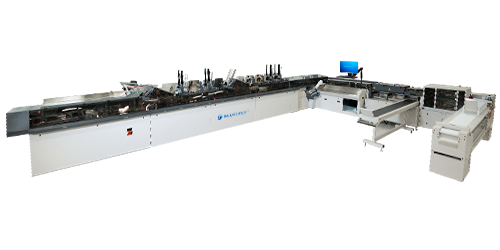 Bernd Wein, Director Operations DM Germany, at Paragon Customer Communications, says: "The Epic from BlueCrest was not only the front runner in one or two categories, it was clearly the best solution for each of our requirements. It is designed so that it can reliably and productively process a wide range of materials."
Direct mail applications can use a huge variety of paper weights and types. To process these materials, Paragon's Epic DM is equipped with various feeders, all of which were developed by BlueCrest. This means that reading, adding, merging, and personalizing almost all types of inserts is possible.
Since the start of the benchmark in July 2019, the Epic system has already processed over 25 million mail items. Paragon uses the machine every day over three shifts, 24 hours a day, 5 days a week. The Epic works regularly with up to 24,000 pieces of mail per hour.

With the support of BlueCrest, we have achieved an excellent position that is a step ahead of the rapidly changing customer communications market.
Bernd Wein
Director of Operations DM Germany, Paragon