Danbury, Conn. -- BlueCrest is today announcing the launch of the Evolution inserting system. Evolution is a next generation mail inserter that combines features of BlueCrest's best-selling mid-range platform, with the leading technology of the most advanced and sophisticated platform in its portfolio. Evolution is a multi-format system for transactional and direct mailers that processes letters and flats at speeds up to 12,000 cycles per hour.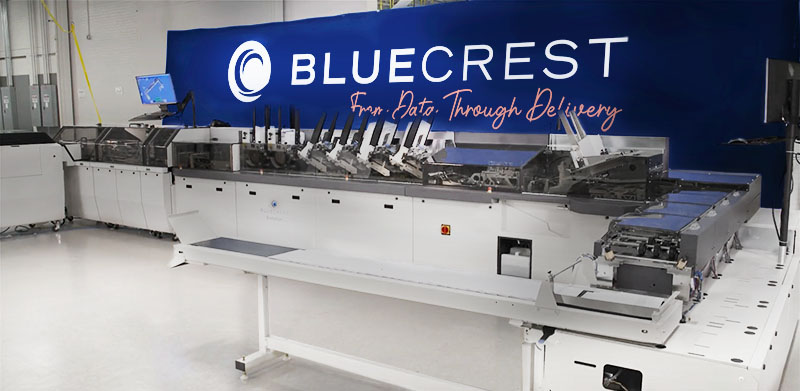 "We intended to debut Evolution at Drupa, but 2020 had other plans," said Eddy Edel, Vice President of Product Management. "We believe the Evolution is a game changer in the market and the clue is in the name – this is a true evolution of our product line. We designed it for the evolving needs of mid-sized mail operations, so they can add functionality, replace legacy systems, and take on additional work."
Evolution leverages some of the most sophisticated mailing technology previously only available on higher-speed, more expensive inserters, with larger footprints. It is configurable, flexible, and can confidently process a variety of application requirements. Thanks to a simple, easy-to-use system interface, mailers can both reduce labor hours and increase production capacity. In addition, Evolution runs a file-based processing system to help achieve the highest mail piece integrity in the industry.

These are difficult times. It's important to make smart investments that will positively impact your operations today and drive profitability in the future. As your business evolves, so should your mailing technology, and Evolution delivers against these requirements.
Eddy Edel
VP, Global Inserting, Digital Solutions & Strategy for Product – BlueCrest
Automation is fundamental in the design of the Evolution, making set-up times fast, easy, and repeatable. Being able to handle a variety of applications and quickly change between workflows differentiates Evolution from the competition and increases operator productivity. Evolution is easy to use and requires minimal operator training.
BlueCrest prides itself on providing client-driven solutions that are built to last. Tough times don't last, but reliable technology does, and the Evolution mail inserter is primed to evolve with the changing needs of forward-thinking, high-performance mailing operations. The Evolution is yet another achievement in BlueCrest's pantheon of reliable inserter equipment. It was engineered for consistency, repeatability, and futureproofing. The modular design will help mailers meet the needs of both today and tomorrow.
Learn more about the Evolution Inserting System.
About BlueCrest
BlueCrest is a global, innovative leader in enterprise print, mail, and customer communications. With a comprehensive line of printers, inserters, sorters, and parcel solutions—and a renewed commitment to providing innovative software—BlueCrest serves clients around the world.