BlueCrest is today announcing a new ink set and model, the IntelliJet® 20 HD with HP Brilliant Ink™. The announcement comes alongside BlueCrest's production print partner, HP, who is also announcing the release of a new ink set enhancement for the HP PageWide T250 HD with HP Brilliant Ink™.
BlueCrest is offering the IntelliJet 20 HD printing system model and upgrade opportunity for existing clients, particularly for transaction mail applications as well as for transactional clients expanding into more color-critical and higher-coverage applications. This innovation comes as BlueCrest has experienced a 22% increase in their high-speed inkjet install base year over year, while client print impression volume has increased 29% year over year.
The IntelliJet 20 HD with HP Brilliant Ink printing system is based on the HP PageWide T250 HD with HP Brilliant Ink and will allow clients to process more types of applications in a single platform, offering more versatility. The platform lends itself to processing a wide range of applications–from transaction mail through high-coverage, color-critical, brand-compliant complex communications.
"We are seeing a growing demand for a printing system that can produce color-critical applications with greater coverage and personalization. As a result, there is a desire for a single, versatile platform that can produce not only transaction mail applications but other types of applications including trans promo and even marketing mail with enhanced visual appearance," said Kevin Marks, Vice President, Global Production Print, BlueCrest.
With the IntelliJet 20 HD with HP Brilliant Ink, clients can process more application types on a single platform. No longer do operations have to choose between printing platforms optimized for either high-speed transactional or color-critical applications. This means print and mail service providers can take advantage of the higher print quality now possible with inkjet to grow their business. In-plant operations can bring back work previously outsourced.
The BlueCrest IntelliJet® is a proven, upgradable platform that allows clients to increase profits and expand business opportunities by taking advantage of advances in printing performance and print quality — without a forklift upgrade. Clients with the IntelliJet 20 HD, featuring HDNA high definition nozzle architecture, can begin using the new ink sets as soon as they become available later this year.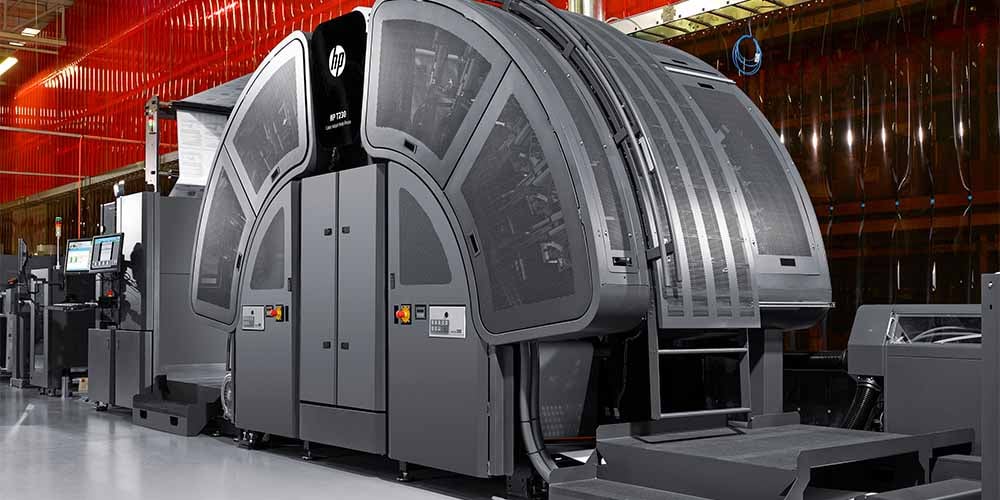 The new IntelliJet 20 HD with HP Brilliant Ink includes the ability to:
HP Brilliant Ink- delivers high-quality print with eye-catching colors, bold reds, and dazzling blues with a glossy output. A new CMYK ink set offers an extended gamut, specifically designed to print with high quality on coated and uncoated offset media with one press.
Expanded application range- with the digitally printed HP Optimizer that provides smooth color gradients and fills by compensating for batch-to-batch mill variation on coated media while delivering high optical density with reduced show-through on offset uncoated media.
Maintain quality and productivity

via a built-in color vision system and color spectrophotometer. HP's Quality Image Check vision system monitors print quality in real time and provides the operator with performance insights while running the press at speed. Capture more business and meet customer deadlines with printing at speeds up to 500 fpm (152 mpm).
As an incremental accessory, for clients who want to leverage the output and apply a coating, the Harris and Bruno ExcelCoat ZRW Web Coater offers breakthrough capability for commercial and direct mail applications, delivering unsurpassed quality, productivity, and economics.
As a leader in the transactional print and mail market, BlueCrest prides itself in producing solutions to optimize end-to-end workflow and drive maximum efficiencies across client operations.
About HP Inc.
HP Inc. (NYSE: HPQ) creates technology that makes life better for everyone, everywhere. Through our product and service portfolio of personal systems, printers, and 3D printing solutions, we engineer experiences that amaze. More information about HP Inc. is available at www.hp.com.
About BlueCrest
BlueCrest is a global, innovative leader in enterprise print, mail, and customer communications. With a comprehensive line of printers, inserters, sorters, and parcel solutions—and a renewed commitment to providing innovative software — BlueCrest serves clients around the world. For more information visit www.bluecrestinc.com.