Taking a Targeted Approach with a Periodic Maintenance Plan
Expanding Beyond the One-Size-Fits-All Approach for Long-Term Reliability
Maintaining print and mail equipment over time can be tricky. Different parts have different needs and, depending on their environment, their cycle count, or what type of jobs are run, they simply don't wear evenly across the board. But shutting down machines entirely for repairs after they break unexpectedly forces businesses into extended periods of downtime and compromises production efficiency.
Rather than being forced to take down an entire machine for anywhere from eight to 24 hours for planned maintenance that halts production, a custom periodic maintenance plan can pinpoint and plan for potential parts replacements before failure occurs. This uniquely tailored approach helps businesses drive productivity by allowing them to forecast scheduled downtime and maintenance months in advance.
Think of it like a race car speeding around a track. They have to make planned pit stops and focus on particularly worn-down parts in order to keep running as efficiently as possible. Pre-planned periodic maintenance and downtime are critical to getting the best performance out of the car. The same is true for print and mail equipment.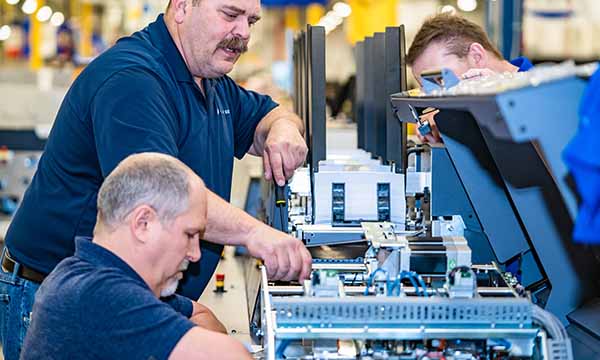 Periodic maintenance is a pit stop for print and mail equipment on the racetrack of productivity. A planned pit stop allows businesses to make necessary repairs, upgrades, or parts replacements to their equipment in a way that ultimately bolsters production rather than slowing it down. Scheduled maintenance downtime can extend machine production and build in a sense of predictability to help with planning. Instead of issues arising unexpectedly, businesses can schedule when their equipment will need maintenance and plan their jobs accordingly.
How is Planned Downtime Beneficial?
Prepare for the unexpected might be a popular business planning phrase, but ideally, print and mailers should instead prepare for the expected. When you know that repairs on your system need to occur on a certain day, it's much easier to adjust production plans accordingly. Perhaps you increase output on Tuesday and Wednesday, to make up for 10 hours of downtime on Thursday. Or you could shift jobs you had planned for one machine to others that will still be running.
If you want answers on how long a machine will be out of service for repairs, or how fast those repairs will take, planned downtime delivers them, ensuring there are far fewer instances of uncertainty.
This degree of reliability and certainty makes it far easier to plan your jobs months ahead of time. Instead of jumping from job to job, never knowing when a machine may suddenly go down without a moment's notice, periodic maintenance allows you to step back and see the bigger picture, transitioning from a point-in-time view of your environment that's focused on short-term costs, to a more holistic, outcomes-based view.
A one-size-fits-all maintenance plan not only wastes time but wastes money because your machines do not necessarily need all parts to be repaired at once.
Think of two different people who each own a vehicle of the same make and model. They don't drive their cars the same way, and likewise, won't need to bring them into the shop at the same time or for the same reasons. Person A might need a tune-up after 50,000 miles, while Person B, who drives less frequently, needs a tune-up every 40,000 miles. One might need their oil changed; the other might need their brakes fixed. Even though both cars run on the same engine, the environments they're in and their different levels of usage will wear down the engine differently.
All too often, businesses entrust their equipment maintenance to providers who rely on the same generic maintenance checklists. Regardless of where a machine is and how it is being used, there are often the same 20 steps that are verified for each maintenance check.
A more time- and cost-efficient alternative would involve leveraging solutions for determining what parts of the machine need to be serviced. That way, come maintenance time, the whole machine isn't being taken apart for the sake of addressing every single part, but rather only the parts in need of maintenance are getting that attention. This reduces both scheduled machine downtime, recovery time, and the total cost of the maintenance itself.
Moving Beyond 'Break-Fix'
Whether you are an in-house mail operator or a service bureau, print and mail is an operational cost. Businesses must deliver maximum value at the most efficient cost. Therefore, it is critical to ensure that whenever maintenance is needed, it's not unexpected or decreasing your productivity longer — and for greater cost — than necessary.
BlueCrest service technicians are specifically trained to take advantage of the varying usage and environments of high-production mail factories by dissecting equipment into high, medium, and low wear patterns. Industry-unique software developed by BlueCrest continually records the actual usage of up to 32 different modules on production equipment and accurately forecasts maintenance needs up to a year in advance.
The BlueCrest Support Services team develops periodic maintenance plans tailored to the unique needs of your equipment — from cycle count to servicing when only in specific need of an update, rather than the entire machine — to make sure everything is functioning efficiently and prevent unwanted downtime. This helps you keep the business focused on driving lower cost-per-piece, increasing ROI, eliminating future risks, and enhancing organizational value.