[(Danbury, CT) January 20, 2021] – BlueCrest, an industry-leading global technology provider and supplier of a comprehensive line of enterprise software, printers, inserters, sorters, and parcel solutions, is today announcing the launch of its new EvoluJet™ Printing System.
The EvoluJet is a new printer targeted at the entry high-volume production segment. This high-quality, color-cut sheet inkjet printer is ideal for operations that use monochrome or color toner printing technology and can benefit from moving to high-quality, more cost-effective inkjet. Additionally, for those operations that already use roll-fed inkjet printing systems, EvoluJet is a valuable production system for short-run print jobs or reprints.

As we continue to grow the inkjet line of business, we maintain one objective: delivering end-to-end, client-focused solutions.
Kevin Marks
Vice President of Global Production Print, BlueCrest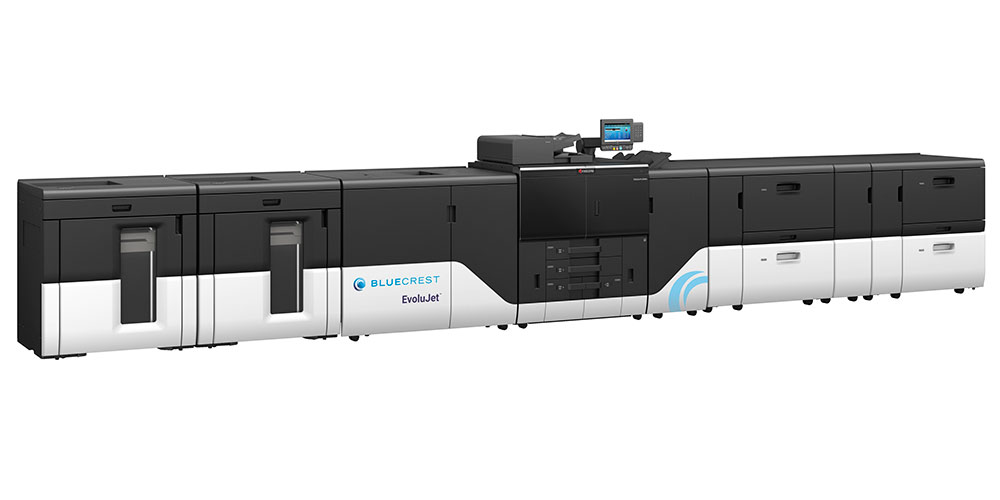 According to Kevin Marks, "The EvoluJet provides significant value for lower volume or short-run production applications. With the addition of the EvoluJet to our proven line of production print solutions, including the IntelliJet and AcceleJet printing systems, BlueCrest provides our clients with the industry's most comprehensive range of high-quality, high-reliability inkjet printing systems."
The EvoluJet printer leverages proven, reliable printhead technology from Kyocera that delivers impressive print quality at a low initial investment and running costs, making it an ideal entry to high-volume production inkjet. Based on the TASKalfa Pro 15000c, the EvoluJet is optimized for transaction mail and vote-by-mail ballot printing for customers with monthly print volumes in the 250,000 to 1+ million impression range.
"BlueCrest offers tremendous experience in helping service providers and in-plant print and mail operations deliver the highest quality transactional communications, providing an ideal partnership for our industry-leading technology and expertise. The innovation of the TASKalfa Pro 15000c combines reliability with inkjet to offer a unique set of features," said Oscar Sanchez, President and Chief Executive Officer at Kyocera Document Solutions America, Inc. We are excited about our partnership and the value we will bring to this underserved segment of the market.
Key benefits of the EvoluJet include:
Transition from toner to inkjet technology resulting in consistent, high-quality monochrome and color output.
Low acquisition cost versus higher duty cycle inkjet printing systems
Offers a low total cost of ownership (TCO).
Proven print head technology provides stable and consistent image quality.
Optimized for transactional applications by BlueCrest delivering greater value from end-to-end process integration.
Single service support organization across Bluecrest print, software, insert, and sortation solutions.
Impressive productivity with a 1 Million+ impressions-per-month duty cycle.
About BlueCrest
BlueCrest is the global leader in enterprise print, mail, and customer communications. With a comprehensive line of printers, inserters, sorters, and parcel solutions—and a renewed commitment to providing innovative software—BlueCrest serves clients around the world.
About Kyocera Document Solutions America, Inc.
Kyocera Document Solutions America, Inc. is a group company of Kyocera Document Solutions Inc., a global leading provider of total document solutions based in Osaka, Japan. The company's portfolio includes reliable and eco-friendly MFPs and printers, as well as business applications and consultative services that enable customers to optimize and manage their document workflow, reaching new heights of efficiency. With professional expertise and a customer-first culture, the objective of the company is to help organizations put knowledge to work to drive change.
Kyocera Document Solutions Inc. is a core company of Kyocera Corporation, a leading supplier of semiconductor packages, industrial and automotive components, electronic devices, solar power generating systems, and mobile phones. During the year ended March 31, 2020, Kyocera Corporation's consolidated sales revenue totaled $14.7 billion. Kyocera appears on the "Derwent Top 100 Global Innovators 2018-19" list by Clarivate Analytics and is ranked #655 on Forbes magazine's 2019 "Global 2000" list of the world's largest publicly traded companies.